Anthea Strathdee, owner and sponsor of Lower Mountains Air Conditioning, with primary school winner Ruby Roberts of St Thomas Aquinas Primary School, Springwood.
St Thomas Aquinas Springwood Year 6 student Ruby Roberts has won the 2020 Blue Mountains Gazette Design-An-Ad competition, with classmate Amelia Crouch receiving a Highly Commended award.
The students were challenged to design an advertisement for a local business, with the best of these appearing in a recent edition of the popular local newspaper.
The annual competition serves as a platform for Blue Mountains students to demonstrate their creativity, persuasive writing techniques as well as engaging with the wider community through the Blue Mountains Gazette.
"A community event like this is always great," said Kate MacKenzie, St Thomas Aquinas Leader of Learning. "It is good for our students to be aware of local businesses in our area and it's also an excellent opportunity for local residents to see the outstanding talent of the young people at STA."
St Thomas Aquinas' Year 6 teachers believe the Design-An-Ad competition provides students with an excellent real-life opportunity to apply the skills they learn within the classroom.
"I was so excited when I found out that I was a finalist and then a few days later we looked at the Gazette's website and on the front page was my ad," said Ruby Roberts. "I was so proud that my work had won even though I was a bit embarrassed when the teachers put my ad up on the TV at school for everyone to see."
The winning students received $1000 prize money for their schools at a special presentation on November 27.
Major sponsors, Andrew and Anthea Strathdee of Lower Mountains Air Conditioning, have been enthusiastic ongoing supporters of Design-An-Ad and love the fact that the prize money goes to local schools.
"It's great for the students because it creates excitement in their day-to-day work and it's a great achievement for the winner," said Mrs Strathdee.
In creating her ad, Ruby, who is interested in a career involving animals, settled on a striking design that incorporated a bearded dragon on wooden flooring along with the catchy slogan 'Bring life to your home' (Pictured below)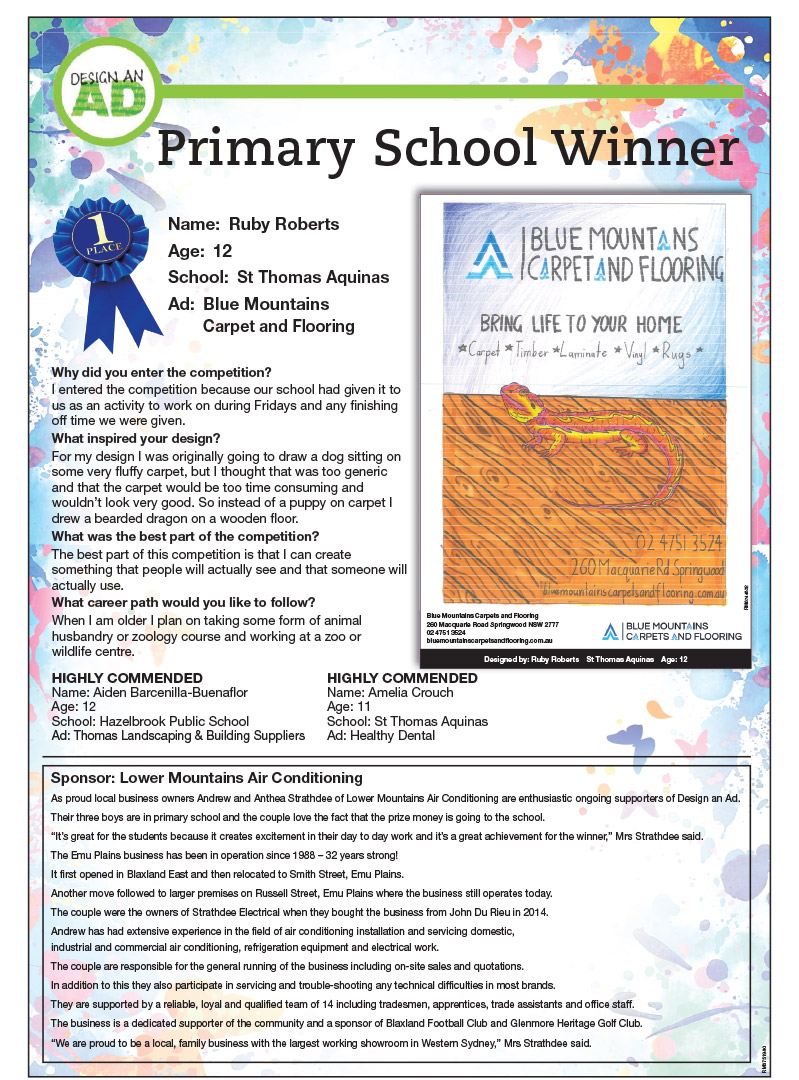 Amelia Crouch received a Highly Commended award for her colourful dental advertisement.
"I enjoyed how I could be creative with advertising and I always love drawing and designing things," said Amelia. "When a friend told me my work was in the paper, I thought they were joking. I was so shocked because it was all across the Blue Mountains and I don't consider myself as an artist but I was really proud of myself."
Gazette sales representative Deborah Bushell commended all of the students for their efforts.
"As always, the quality of the entries was incredible," she said.
The judges took into consideration a number of different factors, including the creativity of the design and of course, attention to detail.
---
Find out what makes St Thomas Aquinas a great school